They say that knowledge plus experience equals wisdom. In many cases, wisdom is the discernment in knowing when (and how) to use your knowledge in a certain situation. It points us to the reality that a wealth of knowledge or data, or information in general doesn't do us much good if we don't have access to it or process it in a way that lets us use it in the right moment. Such is the challenge with medical device connectivity in hospital systems around the world.
Each medical device is gathering data in real-time. But that data is oftentimes inaccessible, at least in the moment a clinician really needs it most. So, in the heat of a moment, clinicians are too often tracking down results and looking at old data. They are not fully equipped to make the key decisions at the right moment, says Sadiq Syed, VP & GM-virtual hospital, life care solution at GE Healthcare.
Even if they did have all the real-time data at their fingertips, sometimes they may need additional decision support from remote teams. Currently, in many situations, remote teams can't provide support because they don't have access to the data. So why does connectivity matter both locally and remotely and what would it look like if our medical devices were equipped to help clinicians make better decisions?
The connectivity disconnect
Medical devices are getting increasingly advanced and specialised, gathering more data than ever before. Most of the time, clinicians make decisions based on multiple datasets from different devices. But they can't access all of it at the time when they need it. This leads to a ripple effect of possible errors, lack of consistency, and truly untapped potential of the technology on which healthcare providers rely.
Minutes and seconds matter
When it comes to having patient data readily available, in certain situations in the ICU or ER, minutes and even seconds can make a difference. So, the richer the dataset you have, the better, more informed decisions you can make in real-time.
However, the reality is that data is only as good as your ability to use it in that moment, like when a clinical team is making a decision about that patient. We can improve so much in this area of healthcare. We've barely scratched the surface as an industry.
More broadly, with better connectivity you also have the greater potential to build applications that are real-time and provide timely insights to the clinical teams. There is of course always room for reflection and retrospect, but each patient deserves to receive the best decisions and the best care in the moments that matter.
Making data easier to access and manage
Connectivity between medical devices can unlock the potential for multi factorial & real time clinical decisioning.
A couple of practical barriers to connectivity are the installation and onboarding, as well as the IT support required to keep it running. Currently, software upgrades and device calibration can be an extremely tedious task. It's a constant process. We need to focus on ways to improve the ease of deployment and maintenance for these solutions, by enabling cloud based IoMT architecture
The benefits of connection
So, with all our data and devices, what would it look like if it all worked together? What kind of impact would that make? And, let me be clear, we're talking about global connectivity, not just locally at a bedside in a hospital.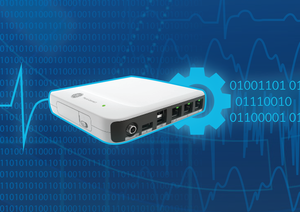 If you think of a true IoMT ecosystem, you're not only accessing high fidelity, rich datasets from the device, but you are also enabling that data to be accessed by anyone, anywhere in the world. With that scope, we're enabling better clinical decision making & innovative clinical apps development.
Solutions like Mural Connect from GE Healthcare are designed to meet the needs of the healthcare industry and provide these benefits to health systems. By equipping devices (old and new) with the ability to connect locally and remotely, we can enable clinical insights for care teams to provide supports in moments that matter.
Supplemental care
When remote care team members have access to real-time data, they can provide more insight and support to the on-site teams. It wouldn't matter if you are on-site or sitting thousands of miles away if you have access to the same datasets to help inform clinical decisioning at the bedside and IoMT connectivity can enable that.
Such additional support wouldn't just improve patient care at that moment, it would also improve the experience for the clinician. The clinician can feel supported knowing that they have other clinicians engaged and making decisions alongside them. In a field that is full of stress and burnout, having that added confidence can make a big difference.
Minimising errors
We can reduce delays in treatment and medical errors. Medical errors alone are the third leading cause of death in hospitals, which says a lot about the work we have ahead of us. Better access to patient data from medical devices can lead to better decisions, and ultimately better outcomes.
Connectivity of this sort also has the potential to improve clinical decisioning at a global scale, the ability to share outcomes and data widely, healthcare providers can enable care teams anywhere to learn from collective experiences and improve their ability to determine the most appropriate treatment based on predicted outcomes. With more data comes a better understanding of how we can treat patients effectively.
Standardising care around the world
Better remote care can also greatly benefit underserved populations or areas of the world. In other words, it can reduce the variation of care. With true connectivity, every clinician regardless of location and level of expertise can see information the same way. That form of connectivity could establish a level of care that is higher than what it is available today. Ultimately, it shouldn't be a matter of luck that someone gets better care in place A versus place B, just because the care team doesn't have access to more complete data.
Operational efficiencies
There are some financial implications on the operational side. For example, if you have fully integrated devices, updates can automatically go into a patient's chart in the EMR or local CIS system. As a result, doctors and nurses don't have to do manual documentation of blood pressure in the last 48 hours (for example). Someone doesn't have to manually enter in the EMR. This saves time and operational cost, but it also frees up the clinician to do more important work, like bedside care.
Connectivity can also provide operational benefits when it comes to equipment. When you can see the status, use, and location of all your devices, you can be more accurate in the equipment you need and minimise wasted or unused equipment. This leads to a ripple effect of improvements in care, starting with using devices to their fullest potential. It then shortens wait times and optimises scheduling because devices aren't sitting stagnant. In short, improved connectivity always finds its way back to providing more efficient and comprehensive care.
Achieving our potential
The state of healthcare technology is peculiar indeed, we have the data, but as it is disparate, we haven't fully reached a point where we're using the data to its full potential. With platforms like Mural Connect, however, we're getting closer to enabling a healthcare world where all data is accessible in real-time. This new era of connectivity will bring so many benefits, the most important of which is better healthcare anywhere, real time.
The author is Sadiq Syed, VP & GM-virtual hospital, life care solutions at GE Healthcare.
Comment on this article below or via Twitter: @IoTNow_OR @jcIoTnow
This UrIoTNews article is syndicated fromIoT-Now
About Post Author