Asia In Brief Microsoft has informed its channel it will revise corporate licenses and service prices in Japan and South Korea.
The software giant revealed the reviews on a page it uses to announce news for its partners.
A brief statement – "Microsoft will be revising all prices for corporate licenses and services" – is the only information offered. No possible outcomes are mentioned.
That page only carries notices for South Korea and Japan – revisions are not mentioned for any other nation. Nor does the page explain why Microsoft has decided to take this action.
The Register last Thursday asked Microsoft's Asian head office, Microsoft Japan, and Microsoft South Korea, to explain the purpose of the revisions.
None replied. We'll ask them again and update readers if we receive a substantive response.
– Simon Sharwood
Chinese giants Tencent and Unicom form edgy CDN JV
Two of China's tech titans – web and gaming giant Tencent, and mega-carrier China Unicom – have formed a joint venture to promote edge computing and content delivery networks.
After Chinese press spotted a regulatory filing about the team up, China Unicom told the world in a filing [PDF] on the Hong Kong Stock Exchange.
That document states the companies plan to create a jointly owned company "which mainly engages in content distribution network (CDN) and edge computing businesses [and] will develop comprehensive CDN/ Multi-Access Edge Computing platform capability, operating capability and product innovation capability."
Neither has said if the JV will operate outside China – an issue of some interest as the US won't let Chinese carriers touch its networks.
China's government has made development of edge resources a policy priority, so the JV will likely find fertile ground.
– Simon Sharwood
Facebook India boss bails
Facebook's Indian leader has resigned and joined rival social media service Snap.
In a LinkedIn post Ajit Mohan wrote: "After almost 4 years leading Meta (Facebook) in India, I am stepping down from my role. I am grateful to the company for the amazing opportunity to lead its efforts in one of its most important countries and I am absolutely proud of the work the team and I have done to create impact for people, creators and businesses around the country."
"When I took on this role, my objective was to build a team and a company that would be a valuable ally to India and play a useful role in fuelling its economic and social transformation. This is exactly what we have managed to do in the last four years."
Facebook has certainly found itself in fewer fights with government than other social media outfits over the last few years but has also struggled with India's laws requiring online platforms to moderate more content and faced criticism of its privacy practices.
Mohan wrote that he is "excited to share that I am going to lead the Asia Pacific region for Snap and be a part of the company's executive team."
– Simon Sharwood
US gets tetchy about Chinese rocket launch
China's third and final space station module, Mengtian, successfully launched and docked with Taingong space station last week.
But China again failed to inform he world of where the Long March booster would land, sparking tetchy tweets from US space command.
#USSPACECOM can confirm a second atmospheric reentry correlated with the #PRC's Long March 5B #CZ5B as it exited the #USSPACECOM Area of Responsibility over the Northeast Pacific Ocean region at 4:06am MDT/10:06 UTC on Nov. 4. https://t.co/keJdc1tmxi

— U.S. Space Command (@US_SpaceCom) November 4, 2022
China often launches payloads without advising where upper stages will land. Tracking such hardware is non-trivial, and the objects are sufficiently large to do significant damage, making the failure to advise of trajectories impolite in the extreme and also unusual among spacefaring nations.
Asian buyers offered exclusive access to Black Panther hard drives
It's a good time to need some external storage, be a fan of the Marvel Cinematic Universe, and live in the APAC region. Seagate has announced a "King of Wakanda Special Edition FireCuda External hard disk drive" featuring "a unique design of T'Challa gazing proudly upon his kingdom, along with magenta RGB LED lighting that drive owners can customize."
The drive is "Exclusive to Australia, New Zealand and selected countries in the Asia-Pacific region."
Sadly there's no indication the Black Panther drives use vibranium to improve performance. Vibranium improves everything, after all.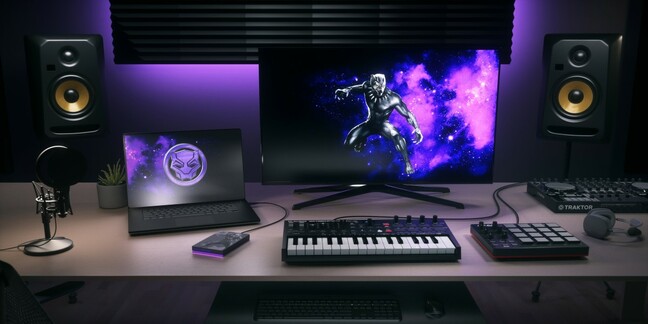 Seagate Black Panther external HDD – Click to enlarge
The drive sits alongside other Black Panther-themed disks, and Seagate's range of disks bearing Spider-Man and Star Wars branding.
– Simon Sharwood
In other news …
Our regional coverage from last week included coverage of Singapore's FinTech Festival where the Monetary Authority of Singapore announced a cross-border CBDC trial called Ubin+, even as its fintech boss predicted stablecoins will take over the role of facilitating faster cross-border transactions before CBDCs are ready.
Also speaking at the Festival was Ethereum co-founder Vitalik Buterin, who offered opinions about a Musk-owned Twitter, Bitcoin, regulations, and the environmental effects of Ethereum's merge to a proof-of-stake process.
Finally, the Festival included an announcement from Singapore deputy prime minister Lawrence Wong that the city-state would phase out the use of checks, starting with corporate checks by 2025.
Also in Singapore, Do Kwon and Terraform Labs were hauled into court thanks to a $57 million claim from investors in the company's crypto products.
Meanwhile, Hong Kong hosted its own duelling FinTech fest as it pushed its vision of developing a local virtual asset industry hub – complete with licensing regimes for asset providers, regulatory regimes for cryptocurrencies, pilot programs and the opening of retail investments.
At Hong Kong's FinTech Week, the governor of the People's Bank of China, Yi Gang, outlined plans for controllable anonymity for China's retail digital currency.
In India, Google stopped enforcing Play store payment rules after the country's Competition Commission fined The Chocolate Factory $276 million for monopolistic practices.
Also in India, the Home Ministry initiated a crack down on predatory lending apps after multiple people committed suicide in reaction to associated harassment, blackmail, and harsh recovery methods.
Lenovo finally posted an entire year of profits from its Infrastructure Solutions Group to the tune of $17 million – a number that is less than one percent of the company's total profits but is at the very least greater than zero.
Alibaba Cloud kicked off its annual Apsara conference with plans to convert more of its SaaS products to serverless operations – a change it says will make it a "computility" (a portmanteau of cloud computing and public utility).
Alibaba Cloud also plans to power one-fifth of its operation with its homebrewed Arm CPUs by 2025.
Analyst firm Gartner published its annual Magic Quadrant assessing the world's leading Cloud Infrastructure and Platform Services providers revealing positive news for both Oracle and Huawei.
Unfortunately for Huawei, however, the Irish government amended its Communications Regulations Bill 2022 to include language that would allow the blacklisting of networking equipment vendors on the grounds of national security.
The Chinese government published a plan for the nation's virtual reality industry, including a suggestion for virtual odor. Mmmmm … new computer smell.
China's State Council outlined a plan to create a National Integrated Government Affairs Big Data System that is expected to make millions of government data sets available in one place by 2025.
China wants the world to know it has a lot of the rare earth materials that everyone needs to manufacture electronics, just in case anyone forgot while they were formulating sanctions.
As China continues to resist COVID, an outbreak in a Foxconn factory has led to tension between factory workers that want to go home and the company, which prefers they stay.
Chinese smartphone-maker Xiaomi has revealed an absolutely bonkers concept device that attaches a high-end Leica lens to its slim 12S Ultra smartphone to convert it into a professional grade camera. ®
This UrIoTNews article is syndicated fromGoogle News
About Post Author