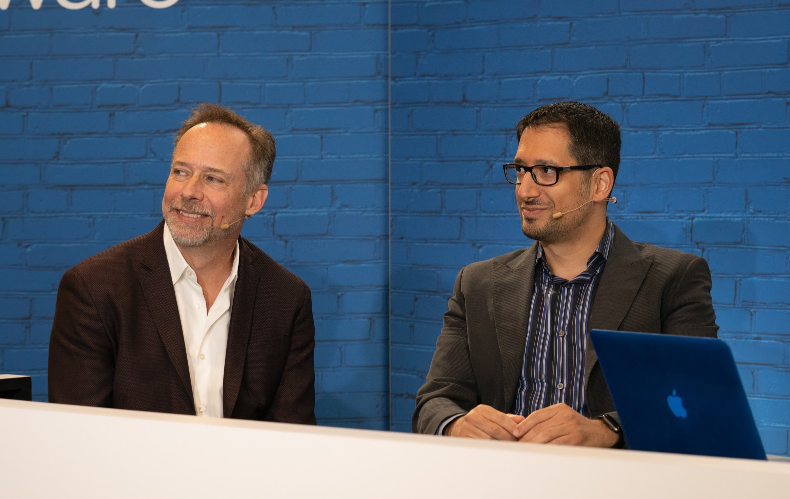 Where in the world should healthcare data reside? The question has historically filled regulators with fear and stunted the market for healthcare data analytics. But both data itself and the potential of analysis with artificial intelligence are growing too great to ignore. Thus, institutions are increasingly looking for safe spaces for data off-premises.
"We talk to a lot of CIOs in the healthcare sector, and a lot of them say, 'We're on a journey,'" said Omar Sunna (pictured, right), director of global product management at GE Healthcare (a division of General Electric Co.).
Sunna and Paul Savill (pictured, left), senior vice president of core network and technology solutions at CenturyLink Inc., spoke John Walls (@JohnWalls21), host of theCUBE, SiliconANGLE Media's mobile livestreaming studio, and guest host Justin Warren (@jpwarren), chief analyst at PivotNine Pty Ltd, during the VMworld event in San Francisco. They discussed trends catalyzing healthcare's shift toward hybrid cloud (see the full interview with transcript here). (* Disclosure below.)
On-prem squeeze
Healthcare companies are used to keeping their own servers under tight supervision in their facilities. They've typically seen the public cloud as fine for some businesses' data — but not for people's sensitive healthcare information. But with the likes of the Central Intelligence Agency giving cloud their vote of confidence, we're seeing this attitude change.
Some healthcare institutions may opt to store historical data in cloud and keep mission-critical data on prem, according to Sunna. "We're seeing a lot more health systems sign up to cloud-based SaaS applications, investing in private-cloud [or] public-cloud hosting services," he said.
Many healthcare institutions annually double the amount of compute and storage they need for growing data, according to Savill. Healthcare-company mergers are one contributor, resulting in the need for powerful cloud computing and AI.
"That's becoming a problem, because you don't want your hospital becoming a bigger and bigger data center, so to speak," Savill said.
Hospitals and other healthcare companies might opt to keep a light load of mission-critical apps on-prem and send the rest out to edge locations to save space and costs. High-performance networking from public-cloud core to on-prem data centers can reduce latency.
And the notion that edge computing must wait for 5G networking is a myth, Savill pointed out. "CenturyLink is deploying edge compute solutions by basically building fiber into enterprise locations and then housing compute at different areas of the network at the point that's most optimal for the solution," he explained.
Watch the complete video interview below, and be sure to check out more of SiliconANGLE's and theCUBE's coverage of the VMworld event. (* Disclosure: CenturyLink Inc. sponsored this segment of theCUBE. Neither CenturyLink nor other sponsors have editorial control over content on theCUBE or SiliconANGLE.)
Photo: SiliconANGLE
---
Since you're here …
… We'd like to tell you about our mission and how you can help us fulfill it. SiliconANGLE Media Inc.'s business model is based on the intrinsic value of the content, not advertising. Unlike many online publications, we don't have a paywall or run banner advertising, because we want to keep our journalism open, without influence or the need to chase traffic.The journalism, reporting and commentary on SiliconANGLE — along with live, unscripted video from our Silicon Valley studio and globe-trotting video teams at theCUBE — take a lot of hard work, time and money. Keeping the quality high requires the support of sponsors who are aligned with our vision of ad-free journalism content.
If you like the reporting, video interviews and other ad-free content here, please take a moment to check out a sample of the video content supported by our sponsors, tweet your support, and keep coming back to SiliconANGLE.
This UrIoTNews article is syndicated fromGoogle News