Sponsored by:

Scheduled for September 17, 2019
If you've read your fair share of tech press, you've certainly been exposed to breathless forecasts about the promise and power of artificial intelligence. The thing is, a lot of those articles are light on detail or focus too heavily on algorithms and not on business value.
In this webinar, Laura Horvath, Head of Product Marketing at Figure Eight, takes an industry-by-industry perspective on true AI adoption.
We will cover:
An approach to AI that realizes business value
Real-world examples of businesses using AI to improve their bottom line
Real-world use cases in e-commerce, enterprise software, robotics & IoT, AgTech, and more
We will separate the hype from the reality, the theoretical from the practical, and the research labs from ROI.
Learning objectives:
Real world uses for AI that improve the bottom line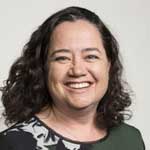 Laura Horvath, Director of Product Marketing, Figure Eight
Laura serves as Director of Product Marketing at Figure Eight. She is a seasoned marketing executive with over 15 years of experience in B2B and SaaS technology. Laura holds a B.S. in Aerospace Engineering from UCLA and an MBA from UC Berkeley Haas School of Business.