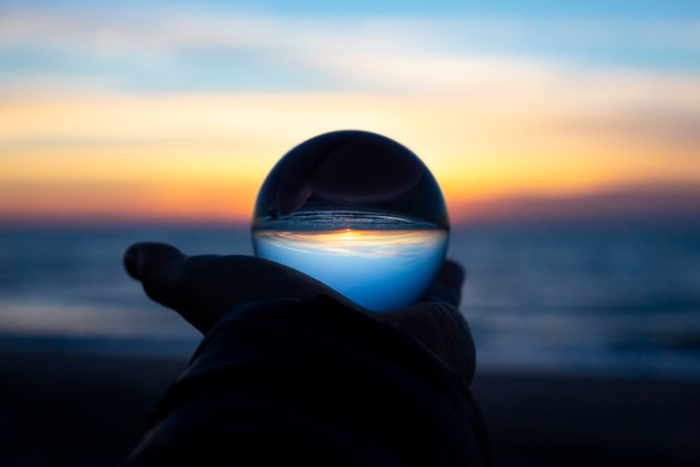 What does the future hold for AR in business?
Augmented reality is gathering momentum at an electrifying scale. The burgeoning technology can already be found making waves in gaming applications like Pokemon Go and communicative tools like Instagram filters.
The practical applications for AR extend way beyond the realms of entertainment and communication, and many businesses are beginning to wake up to the potential that the technology holds in enhancing their operations and effectiveness.
You may also like: Enterprise App Trends to Watch Out For in 2020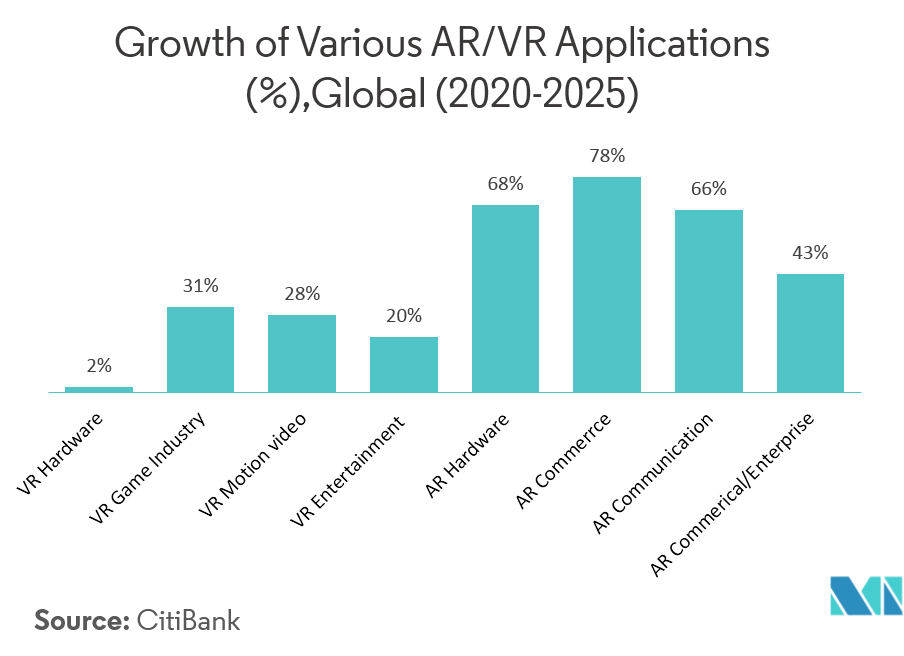 Over the next five years, augmented reality is expected to grow exponentially within the fields of hardware, commerce, communication, and commercial tech. Image: Mordor Intelligence
Augmented reality, in particular, is forecast to grow by around 43% in the field of commercial and enterprise-based solutions over the next five years. While the linked fields of communication, commerce, and hardware are set to report even higher levels of growth.
With this in mind, what does the foreseeable future hold for businesses looking to embrace AR solutions for both internal and customer-facing use? Here's a look at a few key aspects of the coming AR boom.
Immersive Training
When it comes to scaling, businesses can face a tricky task in ensuring that new employees are trained well enough to meet the expectations of their new company. This process can often be time-consuming and difficult to arrange, due to the need of fellow staff members to allow time to carry out training.
With augmented reality, the task of educating new employees can become significantly simpler due to a mitigated level of risk. Augmented reality can leverage new training programs that can place employees in hypothetical work situations. Imagine an augmented production line where trainees can categorize products before moving on to real-life situations.
Such technology means that there's less risk of businesses wasting materials or having to re-start their processes because of a mistake from a new member of staff.
Augmented reality can also make employee training far more effective — providing an immersive experience that has the power to engage employees far better than by presenting them with video tutorials or relying on them to take on board an array of written information.
Fundamentally, AR can operate as a step-by-step guide in how employees can deliver the service that's required of them through adding interactive digital elements throughout the course of their education.
Better Collaboration
There are plenty of great collaboration tools when it comes to business. From the communicative functions of Slack to the delegation features in Monday.com, companies have invested plenty of time in providing solutions to teams within businesses.
However, there's plenty of gaps to fill when it comes to collaboration and augmented reality may soon provide plenty of solutions.
We're about to enter the era of the burgeoning gig economy, where plenty of industries will be subject to the level of technological enhancements that will enable them to recruit remote workers from around the world.
This rise in freelancers will undoubtedly be a blessing for many companies — especially those in niche areas that need to hire employees who will be skilled in a considerably refined area. However, the recruitment of remote workers will lead to a need for more complete forms of communication between departments that could be scattered around the world.
Luckily, AR is set to resolve this problem, and some companies have already began to offer up working solutions.
Software like Spatial has the ability to utilize AR to impose living avatars of employees into an augmented space. This enables teams to semi-physically meet face-to-face to discuss strategies and create coherent plans without being inhibited by not residing in close proximity.
Spatial also has the ability to display a dynamic wall that helps users to visualize their plans through interactive post-it notes and 3D renderings of objects.
Another AR-infused piece of technology that offers this level of immersive communication is Mesmerise. Publishers can use the app to create an AR publication that offers 3D diagrams, renderings and supportive props in lieu of the more arduous traditionally text-based approach of producing meeting materials and business plans.
Fine-Tuned Customer Experience
Customers demand convenience through the duration of their journey from your splash pages to the end of the checkout process, and augmented reality can offer companies some significant help in keeping users engaged throughout their experience.
An early example of customer experience AR software can be found in IKEA Place, an app that lets users explore the company's catalog and virtually position items in their living rooms, bedrooms, bathrooms, kitchens — anywhere — before they decide to make a purchase.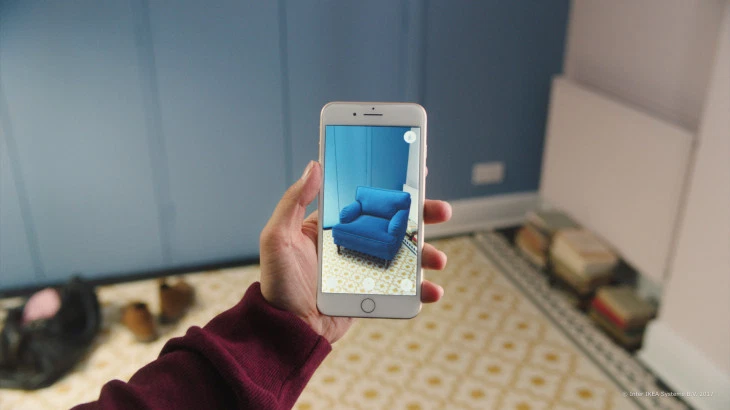 IKEA Place was a trendsetter in showing other businesses how to build AR-enabled customer experience. Image: TechCrunch
This level of usability can keep prospective customers engaged over long periods of time and subsequently will encourage more purchases to be made.
As 5G gathers more momentum prior to its arrival next year, businesses will soon have more processing power to appeal to more audiences who have faster data connections on their smartphones. This means that AR can be incorporated in increasingly ambitious ways, which will only aid the experience of the customer and increase the chances of them being satisfied with the purchases they make.
More Effective Marketing
When Maybelline ran an AR-enabled advert that invited users to try out an augmented version of their range of nail polishes all the way back in 2012, it might have seemed a little bit too early to foresee the full power of the technology that the company was buying into.
Augmented reality can potentially change marketing as we know it today. Companies both before and after Maybelline's adverts have been busy experimenting with the technology to try to market to prospective customers in an innovative way.
Through AR, content can be personalized and interactive on a scale that audiences will have never before seen — making AR campaigns wholly more popular and at least highly eye-catching to those exposed to the practice.
It's important to note that right now, the act of utilizing AR can be something of a gamble when it comes to marketing. The world is busy, and augmentation demands that audiences sit up and take notes. Today, costs are high too.
In the coming months and years, marketing AR solutions will have the ability to occur more organically, and 5G technology will ensure that overheads are kept relatively low compared to today. This will offer up plenty more freedom for marketers. It's will also be possible to create a dedicated AR app to help users interact with the company more comprehensively — in turn, paving the way towards positive customer experience.
Today, there might not be another form of technology that's better positioned to enhance the way businesses operate. Although it's still transitioning from its rudimentary stages, AR solutions will soon be capable of offering seamless collaboration among remote employees, leverage a thoroughly enjoyable customer experience model, and ensure that your brand develops an unmissable presence among prospective customers. The future is nearly upon us, and it looks especially promising for those who are willing to immerse themselves into it sooner rather than later.
Further Reading
Top 10 Business Opportunities for Augmented Reality
How Augmented Reality Will Impact Businesses in 2018
How Android App Development Capabilities With AR Boost Your Business in 2019 and Beyond