Summary : Like everything else, the new generation elevators and escalators are becoming smarter and more well-connected. Let's see how IoT lifts up the traditional elevator system, making it faster, safer, and more personalized.
Rapid urbanization and the rising world population are pushing realty developers to go higher! With city skylines changing dramatically, efficient vertical mobility has become a prerequisite. Technological innovations have made the cityscapes taller and grander, which means we need smarter, faster, and safer elevators and escalators. Often termed as urban workhorses, elevators and escalators have played a critical role in vertical development essential to accommodate rapid urbanization. Since its introduction in the late 1800s, elevators have evolved over the years. From rope cables to automated experience, elevator designs have gone notches higher with IoT technologies.
How is the IoT Paving Way for Smart Elevators and Escalators?
Elevators and escalators are becoming faster, more efficient, and safer – Thanks to IoT technologies. According to a report published in MarketWatch, the global smart elevator market is expected to grow at a CAGR of 6.81 percent by 2028, reaching a value of $14000 million. Smart elevators combine advanced IoT-enabled sensors and software to create a seamless interconnected system elevating its efficiency and safety.
IoT-powered smart elevators can remotely monitor key performance indicators and make real-time maintenance decisions. Smart elevators and escalators can remotely monitor conditions such as safety circuits, load weighing, door cycles and trips, traffic trends, and waiting periods. Based on this data, technicians can keep track of wear and tear along with anomalies in friction and noise to optimize preventive maintenance schedules.
Besides, real-time data provides IoT diagnostic insights enabling you to detect a problem and resolve them before it could cause any casualties. Here are some of the benefits of IoT-empowered smart elevators and escalators:
Enhanced Efficiency and Reliability
IoT sensors generate mammoth volumes of data which can be analyzed to gather invaluable insights into elevator/escalator performance, usage patterns, and maintenance requirements. Additionally, OEMs and facility managers can utilize this data to optimize the elevator design to improve its efficiency, thus reducing abrupt breakdowns and mantraps.
Makes Elevator & Escalator Safe
Poor installation and maintenance are some of the major causes of elevator accidents. Traditional methods of condition monitoring may not be able to detect early indications of possible issues, thus making maintenance less effective. IoT technology provides fault diagnosis with real-time condition monitoring data and sends alerts to the concerned teams. They can quickly take action to fix the issue or the faulty component. This lowers the possibility of accidents or injuries, making the elevators & escalators safe and efficient.
Increased Energy Efficiency
Transporting people and products by going against gravity is a tough job. And with modern buildings touching the skies, it has become crucial to have high-power elevators that can reach the highest floor in just a couple of minutes. According to an estimate, around 3 to 7 percent of a building's energy consumption.
IoT-enabled smart elevator systems optimize energy consumption based on data such as occupancy, weather conditions, and peak hours. Moreover, with such insights, OEMs can design energy-efficiency elevators and escalators.
Elevators in multistory buildings frequently going out of order is an annoyance. Moreover, mantraps are also common occurrences that can affect user experience. With IoT-based condition monitoring and predictive maintenance, technicians can keep an eye on possible faults and fix them, lowering the chances of sudden breakdowns. Also, with elevators functioning without glitches, mantraps can reduce considerably.
Potential Problems Faced by Modern-Day Elevators
With urban landscapes changing drastically with high-rise towers, elevators have a long and arduous way to go. Here are some of the potential problems faced by modern-day elevators:
Technological advancements mean complex compliance regulations. Compliance is becoming a major concern as elevator companies expand their service territory beyond geographical borders. Moreover, safety regulations are constantly changing due to technological advancement, thus it becomes difficult to keep track of relevant changes.
Elevator maintenance is the key to providing a better user-centric experience. However, a reactive maintenance approach and shutting down the elevators/escalators can badly impact the user experience. Reactive maintenance can be a vicious circle. When failures occur, the elevators shut down for unforeseen duration. Such unplanned downtime can affect mobility and increase backlogs. Therefore, predicting failure is crucial to prevent unanticipated downtime.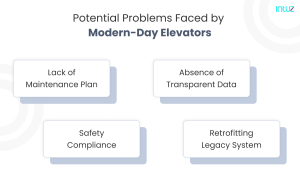 Absence of Transparent Data
Interconnected smart elevator systems produce tons of data, most of which might be inaccurate and irrelevant. Lack of accurate data, OEMs and service providers cannot fully use the potential of IoT-powered smart lift systems. Moreover, without proper data analytics, condition monitoring and predictive maintenance become difficult. This results in repeated breakdowns or abrupt failures.
Retrofitting Legacy System
One of the major concerns for the elevator industry is to ditch legacy systems while remaining cost-efficient. Moreover, when it comes to retrofitting, there is a lot of confusion about the benefits. The worst part is that some companies are unaware that they can retrofit legacy systems with IoT solutions which can add value to their business.
How IoT Solutions are Making Elevators and Escalators Smarter?
IoT technology has changed elevators and escalators beyond mere tools for vertical mobility. Today, smart elevators gather and analyze data to extend better service, lesser breakdowns, minimal mantrap, and enhanced efficiency. Here's how IoT solutions are transforming the elevator and escalator industry:
Real-time Condition Monitoring
IoT-enabled smart elevators and escalators have advanced sensors that capture critical, real-time condition monitoring information for informed decisions. Besides, IoT sensors give better data visibility about elevator/escalator health, live equipment status, traffic performance, and availability. Further, with condition monitoring data, you can continuously record the tear and wear of any component. The sensors monitor key performance indicators of an elevator and send an alert notification if any parameters are not aligned with a prescribed threshold.
Remote Diagnostic and Early Troubleshooting
Elevator and escalator accidents are quite common. Therefore, it is crucial to monitor various mechanical and performance parameters to prevent any mishap.
With IoT sensors remote diagnosis can be carried out by remotely monitoring different components, such as brakes and cable strength. Accelerometer sensors provide consistent and real-time data visibility about the inertial system, helping in remote diagnostics for timely troubleshooting. This helps them to increase the functional efficiency of the, lowering the chances of accidents.
Effective Predictive Maintenance
IoT sensors offer real-time data analytics and prediction models about the health of elevator and escalator components. For example, motion sensors track the elevators movement and detect any anomalies in motion patterns. This allows the technicians to create a thorough and proactive maintenance schedule, thus lowering downtime and increasing safety.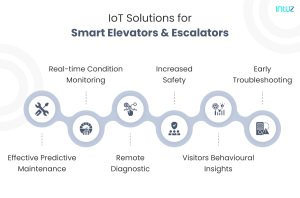 Visitors Behavioural Insights
Elevators are becoming smarter. They are no longer just a mode of transport – IoT-powered elevators and escalators can gather and analyze data about user behavior. For example, smart elevators use user behavioral patterns to determine lighting, music, and advertising preferences. Moreover, future elevators can incorporate a signature sound for elevator announcements to provide a personalized experience.
Today, most elevators have cameras and digitally augmented technologies, giving increased peace of mind. The passengers can easily engage in two-way remote voice and video communication with the service center during an emergency. Moreover, IoT-enabled smart cameras can detect potential dangers such as vandalism attempts, medical crisis, and riders with malicious intent. A real-time notification alert is sent to the facility manager to take immediate action.
Final Word
The IoT-powered elevator and escalator market has immense potential to grow by leaps and bounds. With real-time data analytics and valuable, today's smart elevator systems are becoming energy-efficient, sustainable, time-efficient, space-saving, low maintenance, cost-efficient and safe.
This UrIoTNews article is syndicated fromReadWrite
About Post Author