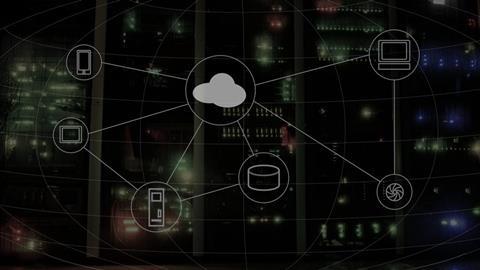 Edge computing, the wide-ranging types of calculations and analyses at the extreme ends of an IT topology, has become a hot trend. According to TrendForce, a Taiwan-based market research company, the global market for edge computing is expected to grow at an annual rate of more than 30% between now and 2022.
In 2025, market volume is expected to reach $3.24 billion. At the same time, edge computing is increasingly catching on in the auto industry. There are two distinct areas of application. One relates to all the in-vehicle computing operations, which are expanding rapidly with the rise of new generations of networked vehicles. And edge computing is making inroads into manufacturing operations, where growing concentrations of computing power are being moved as close to sensors as possible.
There are already major projects in the connected-car field. Premium car maker BMW is using Amazon Web Services (AWS) for new connected-car applications. The company's new car-as-a-sensor-service (Carasso) was developed in just six months. It uses Amazon's Simple Storage Service, Simple Queue Service, DynamoDB, Amazon's Relational Database Service and the AWS Elastic Beanstalk.
"Through the use of AWS, Carasso can adjust to very rapidly changing load requirements. In just 24 hours, they can go up or down two orders of magnitude," said Dieter May, who until earlier this year was responsible for Digital Business Models at BMW.
Volkswagen has entered into a strategic partnership with Microsoft in the connected-car area.
In the medium term, the new Volkswagen automotive cloud is expected to cover all the future digital services and mobility offerings from the Wolfsburg-based automaker as one large industrial cloud, creating the biggest digital ecosystem in the auto sector.
VW is building a new development center near Microsoft's headquarters in Redmond in the state of Washington to support these plans. In the future, all the services in VW vehicles and the group-wide, cloud-based carrier architecture One Digital Platform (ODP) are due to be based on the Microsoft cloud platform Azure.
Automotive edge consortium founded
There is also movement in the telecommunications sector: During the summer of 2018, Ericsson initiated the Automotive Edge Computing Consortium (AECC). The cross-industry alliance, which includes AT&T, Denso, Intel, KDDI, NTT, Sumitomo Electric and Toyota, wants to "ensure that the new technologies and standards meet the future requirements of the value creation chain for networked cars," an association press release said.
The alliance assumes that "networked cars will be sharing 10,000 times the current quantities of data with one another by 2025." This is a crucial issue, as developments in the production machinery and robotics fields have shown. Edge computing has been expanding there, mostly with systems from a variety of manufacturers and with proprietary protocols. This substantially increases complexity, and intermediate steps are needed to standardize data and processes.
The Automotive Edge Computing Consortium (AECC) wants to "ensure that the new technologies and standards meet the future requirements of the value creation chain for networked cars"
Software AG already offers Cumulocity IoT, a tool to manage all tasks involving inter-device connections and data capture. Kepware from PTC is a similar product that uses a protocol conversion to connect various devices. PTC is especially well positioned here: With a new partnership and the participation of Rockwell Automation, a full array of products is now available – from the cloud all the way to the remotest sensor.
"As IT and OT converge, there is a natural alignment between our companies. Together, we will offer the most comprehensive and flexible IoT offering in the industrial space," said Rockwell CEO Blake Moret at the announcement of the new partnership in June 2018.
His new partner, PTC CEO Jim Heppelmann, sees things similarly. The combination of the two companies' technological expertise "enables industrial enterprises to capitalize on the promise of the Industrial IoT," he said.
The classic cloud providers naturally want to be key players. Amazon, in particular, is very active. The Seattle-based web giant recently announced four new services designed to simplify data capture in the IoT and edge computing fields. They are IoT SiteWise, IoT Events, IoT Things Graph and IoT Greengrass Connector.
"Our customers told us it has to be easier to connect and use different devices quickly – and this is exactly what we've responded to," said Dirk Didascalou of AWS, describing the rationale for the new services. "Above all, they should reduce costs and complexity," he said.
AWS services
IoT SiteWise is a managed service for data capture and cataloging. A preview version is now available and is currently being tested, mainly by energy suppliers and manufacturing companies.
IoT Events supports responses to incidents generated by IOT sensors and applications. For example, if the temperature rises in a cold room, the change can be an indication that a door has not been properly closed. A text message is immediately sent to the responsible technician who can then look into the problem.
The same applies to IoT Things Graph, which can be used to create IoT apps on a visual basis with a drag-and-drop feature. In addition, there is a library with predefined cloud and device models. Amazon believes they can be used to develop applications with very little coding or even none at all.
The new IOT Greengrass Connector is available immediately. It helps app developers connect external application securely to Greengrass devices. Amazon is collaborating with various special providers in its IoT activities, including the American solution provider Klika Tech and the Berlin-based M2M firm EMnify. Both are deeply involved with machine control and automation.
This UrIoTNews article is syndicated fromGoogle News