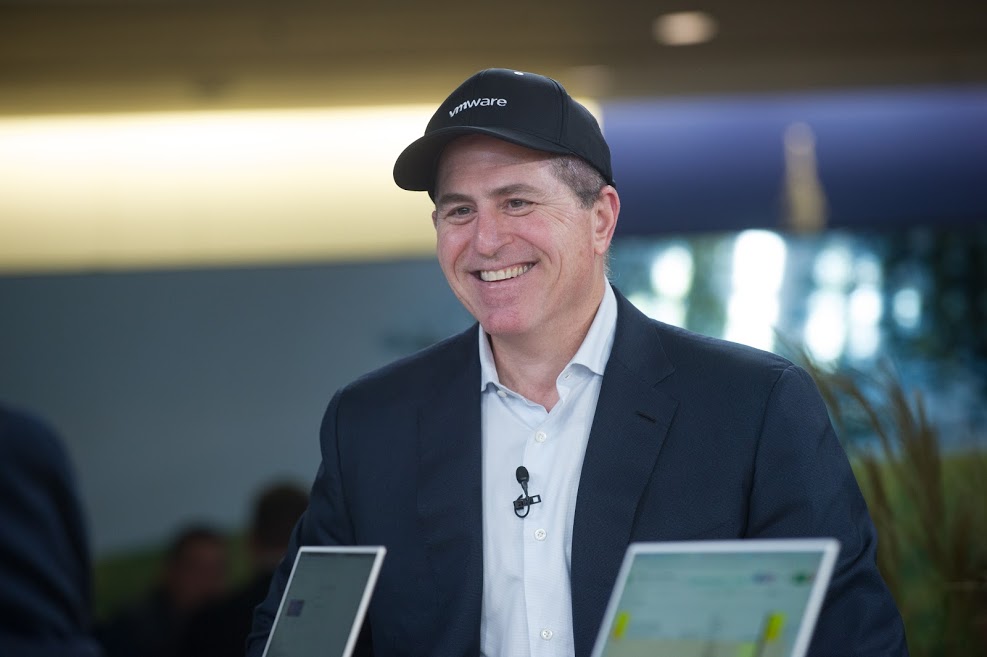 Among the deluge of announcements this week from VMware Inc. has been the expansion of its telecommunications and edge cloud portfolio to enable the deployment of edge-based cloud networks, where end devices such as laptops, smartphones and connected sensors live.
Executives at VMware clearly believe that demand for edge computing tools will only grow, a sentiment shared by industry pioneer Michael Dell (pictured) in an exclusive interview.
"What I see out there, looking out five to 10 years, is this boom in edge computing," said Dell, founder and chief executive officer of Dell Technologies Inc. "At the 15-year anniversary of VMworld, we'll be talking about the edge being bigger than all of the clouds combined."
Dell spoke with John Furrier and Dave Vellante, co-hosts of theCUBE, SiliconANGLE Media's mobile livestreaming studio, during the VMworld event in San Francisco. They discussed how Dell Technologies and VMware are introducing new solutions to meet edge demand, concerns over data privacy, potential new investment and his continued delight at introducing new technologies (see the full interview with transcript here).
Blurred lines between clouds
Dell singled out Project Dimension, VMware's edge and data center infrastructure as a service, to highlight how the company is building its platform in anticipation of the edge tsunami. The first-to-market Project Dimension solution was introduced this week as Dell Technologies Cloud Data Center As-A-Service.
"The line is blurring between what's a public cloud, hybrid cloud, multicloud, edge," Dell said. "Our opportunity is really to make all of that go away for customers and allow them to choose."
Dell also addressed issues within the technology world over data privacy concerns and the exploitation of user information. In his keynote remarks on Monday at VMworld, VMware CEO Pat Gelsinger devoted nearly a third of his remarks to highlighting the company's "Tech for Good" initiatives.
"I do think there have been some companies in today's world that have been looking the other way because they have been minting money, using customers' data, and exploiting their privacy," Dell said. "We're not one of those. The biggest thing that we can do is use all of this data to enable humanity in a positive way."
Potential new investment
Asked about Dell Technologies' merger and acquisitions philosophy, Dell noted that the company has followed a deliberate approach despite being active in the acquisition arena.
"What we don't do is wake up in the morning and say, 'Let's go find a company to buy.' We start with the strategy," Dell stated.
However, he hinted that Dell Technologies Capital, the company's venture capital arm, could be making a key investment in the near future.
"We're going to announce another [acquisition] that will probably get your attention in the compute space, the artificial intelligence space," Dell said.
It's a more complicated world than existed when Dell introduced his fledgling company's first personal computer from his college dorm room in the 1980s. Yet, the man who would become the youngest CEO of a Fortune 500 company in the early 1990s still gets pretty excited about new technology, citing the list of solutions rolled out during a VMworld keynote presentation on Tuesday morning.
"I could geek out and get excited about any one of those," Dell concluded.
Here's the complete video interview, part of SiliconANGLE's and theCUBE's coverage of the VMworld event:
Photo: SiliconANGLE
---
Since you're here …
… We'd like to tell you about our mission and how you can help us fulfill it. SiliconANGLE Media Inc.'s business model is based on the intrinsic value of the content, not advertising. Unlike many online publications, we don't have a paywall or run banner advertising, because we want to keep our journalism open, without influence or the need to chase traffic.The journalism, reporting and commentary on SiliconANGLE — along with live, unscripted video from our Silicon Valley studio and globe-trotting video teams at theCUBE — take a lot of hard work, time and money. Keeping the quality high requires the support of sponsors who are aligned with our vision of ad-free journalism content.
If you like the reporting, video interviews and other ad-free content here, please take a moment to check out a sample of the video content supported by our sponsors, tweet your support, and keep coming back to SiliconANGLE.
This UrIoTNews article is syndicated fromGoogle News