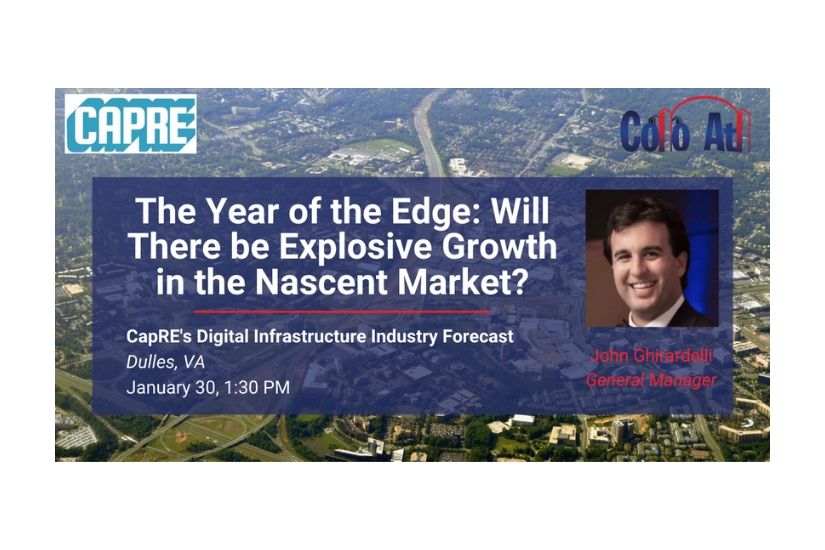 Colo Atl General Manager and Director, U.S. Innovation for American Tower, John Ghirardelli, will join a panel addressing the tipping points of edge computing at CAPRE's upcoming Digital Infrastructure Industry Forecast event, taking place Jan. 30 in Dulles, Virginia. Colo Atl is an American Tower company and the leading provider of carrier-neutral colocation, data center and interconnection services at 55 Marietta Street in Atlanta.
Professionals from the hyperscale, colocation/MTDC, 5G, telecom and next generation sectors will gather in one of the nation's largest data center markets, northern Virginia, to examine shifts within the telecommunications industry. Estimated internet traffic per month in the U.S. is expected to rise to 33.45 million exabytes per month by 2023. The full-day conference will examine ways to keep up with the trend without pushing content to the edge.
Mr. Ghirardelli's panel, "The Year of the Edge: Will There be Explosive Growth in the Nascent Market?" addresses whether edge computing will reach its tipping point. The panel is moderated by Robert Dennelly, Director, Product Line Management & Engineering, AFL Hyperscale. Other panelists include Jack Dziak, Founder & CEO, Dziak Advisory Services | Partner, Riverbend Capital; Jorge Gonzalez, VP, Corgan; Antonio Pellegrino, Founder & CEO, Mutable. The panel takes place at 1:30 p.m.
Discussion points include:
What type of value will be realized in 2020?
What new factors will be introduced into the edge computing landscape?
What types of use cases and industries stand to benefit the most from edge computing?
What type of edge data centers are being deployed and utilized in low Earth orbit satellites?
To register or learn more about the event, visit https://www.capremedia.com/events/capres-2020-data-center-cloud-infrastructure-forecast-east.
For more information on Colo Atl, visit http://www.coloatl.com.
This UrIoTNews article is syndicated fromGoogle News
About Post Author