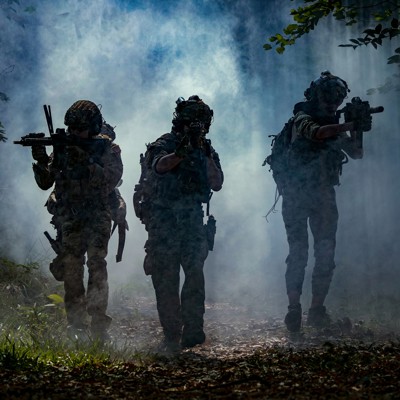 Companies can add new technologies and capabilities to their portfolio via the traditional options: build it themselves, make an acquisition or bring in a partner.
But a fourth option becoming more paramount takes the partner strategy to a new level, which is by investing in startup firms that have a unique and valuable technology.
The latest example is the investment Booz Allen Hamilton announced this morning with Reveal Technologies. The amount is undisclosed and Booz Allen joins investors such as 8VC and Defy Partners. The Defense Innovation Unit, Air Force Research Laboratory/AFWERX, and the Martin Corps Warfighting Lab have providing funding to the company as well.
What drew Booz Allen's attention is Reveal's mapping product that uses artificial intelligence and drone technology to bring robust intelligence, surveillance and reconnaissance capabilities to special operations forces that are disconnected any tactical networks. (See the video at the end of this post.)
The investment in Reveal is part of Booz Allen's tech scouting program. Other large systems integrators also have established similar tech scouting and investment programs including Lockheed Martin, L3Harris, Jacobs, BAE Systems and Northrop Grumman.
Booz Allen's program is focused on technologies that support the digital battlespace, cybersecurity, and artificial intelligence and machine learning, said Brian MacCarthy, vice president of tech scouting and ventures at Booz Allen.
"We've made four investments to date and spun out two from our own organization where we remain a minority equity partner," he said.
The goal is to help nurture promising technologies that have the potential to solve problems for Booz Allen customers.
"We are looking at where we can get those niche technologies and tuck them into some of our major programs," MacCarthy said.
Reveal is already doing some work with special forces at the Marine Corps, but Booz Allen thinks the technology has applications across DOD. Booz Allen has has identified three other programs, including the Army where Reveal's technology can make a difference.
The company has built an AI-enabled software platform known as Farsight that can work on a wide variety of smartphones and tablets, provide 2D maps, near real-time 3D modeling and tactical AI insights. The big plus is that no network connection is needed.
Soldiers or Marines can launch a small drone that can do reconnaissance and transmit the data to the soldiers who can use it to plan routes through urban areas, taking into account data they already have on the location of adversaries and friendlies and other information. The system can calculate line of sight of adversaries and suggest routes.
"Our global defense chief technology officer wanted to find a mapping capability that can build near 3D maps," MacCarthy said. "We were task to scout edge computing companies with AI and modeling capabilities to deploy at the edge on any device."
MacCarthy and his team scout some 2,000 companies a year. He said they quickly found Reveal and an added plus is their technology had already been deployed.
The challenge for many emerging tech firms is crossing the chasm — sometimes called the Valley of Death — from small proofs of concepts through Other Transaction Authority projects and Small Business Innovation Research grants to larger contracts.
That is where the partnerships and investments from larger firms such Booz Allen helps small startups such as Reveal.
"One of our big goals is to focus on three to four contracts and mission-focused problem sets that we can walk into as the lead systems integrator," MacCarthy said.
Booz Allen can't build all the technology it needs to solve these problems so it brings in partners, he said.
"Reveal solved a very hard technical problem that we weren't going to build ourselves," MacCarthy said. "Tactical AI at the edge is such an enormous market and such a difficult challenge to solve."
For Reveal and other startups, he said having a partner who knows the market and the mission helps them cross the Valley of Death.
"They might be strong in the Marines, but to get to eh Army, or the Air Force, you need a partner that knows those markets," he said.
There are other potential benefits for Reveal such as Booz Allen connecting them with other partners whose technologies can solve challenges Reveal faces. For example, longer battery life or better training.
"We are working them on a monthly basis on different uses cases," MacCarthy said. "If they grow, we win as well."
The investments are in companies that are small, perhaps even less than 50 people, McCarthy said.
An eventual acquisition by Booz Allen is a possibility, but isn't the driving factor.
Farsight by Reveal Technology from Andrew Dixon on Vimeo.
This UrIoTNews article is syndicated fromGoogle News
About Post Author