Azure Private Multi-Access Edge Compute Promises Private 5G Support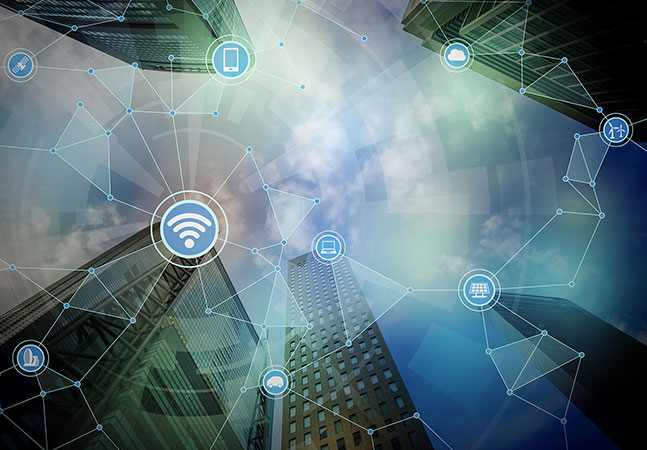 Microsoft last week disclosed new Azure services, bolstered by partners, to support enterprises tapping private 5G networks and edge computing services.
The new services go by the "Azure Private Multi-Access Edge Compute" (MEC) brand. Multiple partners contribute to the effort, including operators, system integrators (SI) and independent software vendors (ISVs). Microsoft and these partners are collaborating to "develop Microsoft-validated Azure Private MEC customer solutions" for enterprises.
The notion behind Azure Private MEC is that various industries have a need to use low-latency private 5G wireless connections, possibly because their operations are remotely sited, such as oil platforms. They may need access to computing power located out on the network edge. Azure Private MEC is seen as providing a means for partners to simplify the delivery of private 5G networking solutions to such organizations.
"Azure private MEC enables operators and systems integrators to simplify the consumption of secure and private 5G networks and to easily deliver ultra-low-latency networking, applications, and services at the enterprise edge," Microsoft's announcement explained.
The 'Evolution of Private Edge Zones'
Azure Private MEC was described in Microsoft's announcement as an "evolution of Private Edge Zones," which Microsoft previewed last year. An Edge Zone is a small-footprint version of Microsoft Azure services used for remote operations. A Private Edge Zone is an instance that runs at an organization's premises, rather than at Microsoft's facilities.
Azure Private MEC is distinguished from Private Edge Zones by supporting "edge compute, multi-access networking stacks, and the application services that run together at the far edge," Microsoft explained.
'New' Azure Private MEC Services
Azure Private MEC consists of Microsoft services, plus partner contributions. Some "new" Microsoft products for Azure Private MEC were announced last week.
One of them is Azure Network Function Manager, which is at the preview stage per its landing page description. Azure Network Function Manager is billed as providing access to a "consistent management experience for pre-validated mobile network functions to enable a private LTE/5G solution." These prevalidated solutions can be accessed from the Azure Marketplace store. Azure Network Function Manager gets used with Azure Stack Edge, which delivers "local cache capability and bandwidth throttling" capabilities to optimize Azure data transfers, according to a landing page description.
Microsoft's other new Azure Private MEC services stem from Microsoft's year-ago acquisitions of a couple of telco-focused software-defined networking companies, namely Affirmed Networks and Metaswitch Networks.
The new Affirmed Private Network Service combines Affirmed Networks technologies integrated with Microsoft Azure services. The Affirmed Private Network Service is described as "a fully managed solution that enables mobile network operators and mobile service providers (MSPs) to quickly and securely deliver private LTE/5G network services to the enterprise."
The new Metaswitch Fusion Core service was described as "a fully containerized 5G Core solution that supports all network functions needed for connecting IoT devices over 4G or 5G radio networks." Metaswitch Fusion Core supports the deployment of applications and the use of Azure services on the Azure Private MEC platform, the announcement explained.
New Partner Solutions
Microsoft's partner solutions for supporting Azure Private MEC are housed in the Azure Marketplace. New solutions are either available, or are coming, from "Celona, ASOCS (coming soon), Netfoundry, Versa, Nuage Networks, VMWare SD-WAN by Velocloud, Fortinet (coming soon), 128 Technology (coming soon), and others to follow," Microsoft's announcement indicated.
"Our partners are critical for Azure private MEC to span the ecosystem of hardware, application, and the network," the announcement added.
A breakdown of the Azure Private MEC partner contributions was shown in this Microsoft graphic: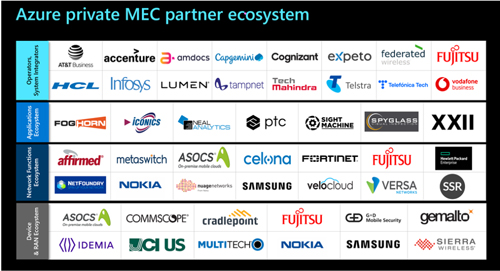 Microsoft's move into providing software-defined networking support for operators is somewhat new. Last year, it bought Affirmed Networks and Metaswitch Networks to bolster those efforts, and it additionally declared Azure to be a "carrier-grade platform" for telcos deploying 5G services.
Later, Microsoft instituted its "Azure for Operators" services program. It also joined the MEF industry association, which is focused on the development of software-defined wide area network support for telcos and ISVs.
Kurt Mackie is senior news producer for 1105 Media's Converge360 group.
This UrIoTNews article is syndicated fromGoogle News