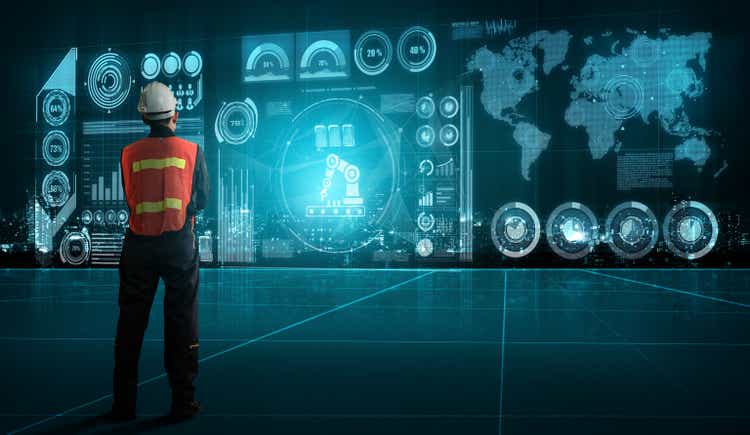 Two weeks back, I compared the different ways AT&T (T) and Verizon (VZ) are monetizing 5G investments in the context of Industry 4.0, with the two mobile network operators ("MNOs") partnering with the big public cloud providers (hyperscalers) like Amazon's (NASDAQ:AMZN) AWS or Microsoft's (NASDAQ:MSFT) Azure for this purpose.
The aim of this thesis is to provide insights into T-Mobile's (NASDAQ: NASDAQ:TMUS) strategy after it inked a partnership with Lumen Technologies (NYSE:LUMN), formerly called CenturyLink, which, in September 2020, was rebranded from pureplay telecom to one that focuses on supporting enterprise customers requirements including their edge computing.
For this purpose, the Lumen edge platform helps clients capitalize on Industry 4.0 developments around industrial robotics and automated factories through its high-performance fiber network with a latency of fewer than 5 milliseconds.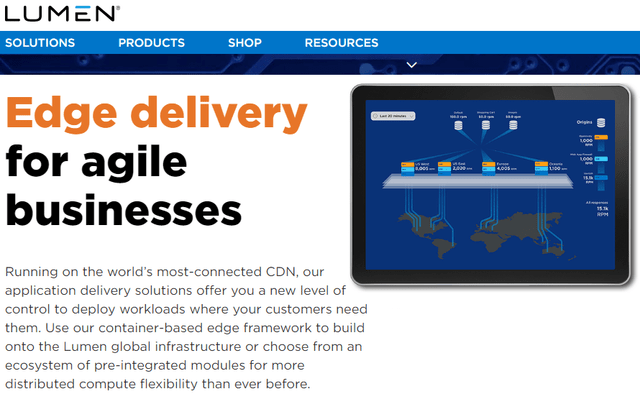 Two years after it completed the merger with Sprint and which also explains its leading position on the mid-band 5G roll-out, I start with the cost rationale behind T-Mobile's decision to opt for the partnership, and this, as the cost of capital increases further with each Fed hike.
T-Mobile's strategy for enterprise customers
While the focus is mostly on 5G and its considerable market opportunities, it is also important to consider the expenses being incurred for its implementation in the U.S. The figures are huge when the billions of dollars of quarterly capital expenditures are considered just for the big three as shown in the chart below.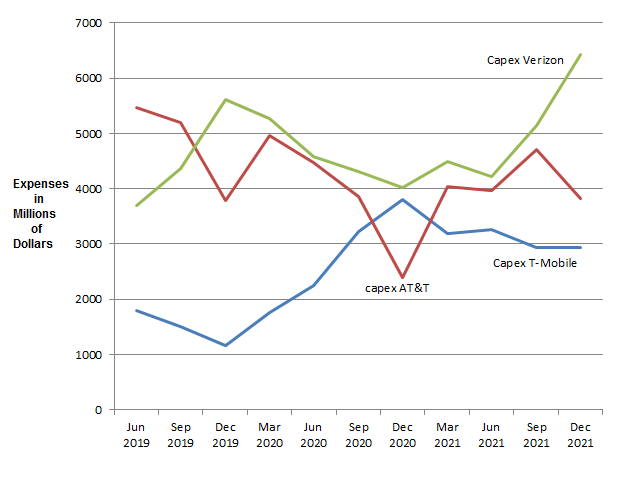 Here, my aim is not to differentiate or pinpoint any one of them for spending more than others, as this ultimately depends on their individual strategies. Also, the CAPEX figures for AT&T and Verizon include fixed-line and other components. Nonetheless, with investments in spectrum and radio access networks ("RANs"), a large chunk of capital spending is being directed at erecting the 5G infrastructure.
Pursing further, unlike the situation ten years back during the upgrade from 3G to 4G, when all carriers had to do was upgrade their networks and expand coverage throughout the country to rapidly recoup investments, the switch to 5G is not inducing the same mass-adoption appetite from the public. There are a number of reasons for this, including the absence of any killing apps which fully leverage the technology as was the case during the move to 4G when the motivation factor was the ability to view applications on smartphones compared to just voice and text messages before.
At the same time, there is cut-throat competition, with service providers having to give away free phones to encourage customers to opt for 5G plans. As a result, despite exceeding guidance with 1.8 million postpaid net customer additions in Q4-2021, the company only managed to post revenue growth of only 1.57% over last year.
Hence, huge capital expenses, competition, and growth pressures all call for a change in strategy, one made possible through opportunities from T-Mobile's business segment as it takes full advantage of the performance of its 2.5 GHz spectrum or Ultra Capacity 5G, in avoiding the latency suffered when corporations located at the boundaries (or the edge) connect to centralized clouds. For investors, edge computing is about making available processing power to decentralized applications like those in autonomous vehicles or IoT sensors nearer to where they are located, instead of having to transmit and receive data from big distant datacenters.
For this purpose, T-Mobile has the largest coverage including 310 million people across 1.8 million square miles, with revenues of $58 billion for 2021. It also expects between 5 million to 5.5 million postpaid net customer additions in 2022. However, serving predominantly the consumer segment including individuals like you and me, generated only $9.99 billion of operating income or margins of about 12%. Thus, the company has started to aggressively tap into the higher-margin business category through product launches and partnering with Lumen.
The Lumen partnership
According to Lumen's executives during Q4-2021's earnings call, about 97% of U.S. enterprises are within 5 milliseconds of their network, which signifies very low latency or instant data transfer capable of supporting the type of machine-to-machine communications needed for the fourth industrial revolution. Now, the pairing with T-Mobile's 5G further extends that capability.
In other words, Lumen, which is also an ISP with an extensive landline-based internet web that also serves enterprises, can now seamlessly extend it to wider geography by using the MNO's wireless connectivity. In this respect, Lumen's edge solution also boasts cloud partnerships with AWS, Azure, and Google's (GOOG) GCI as well as deals with VMware (VMW) and Cisco (CSCO) as shown in the figure below.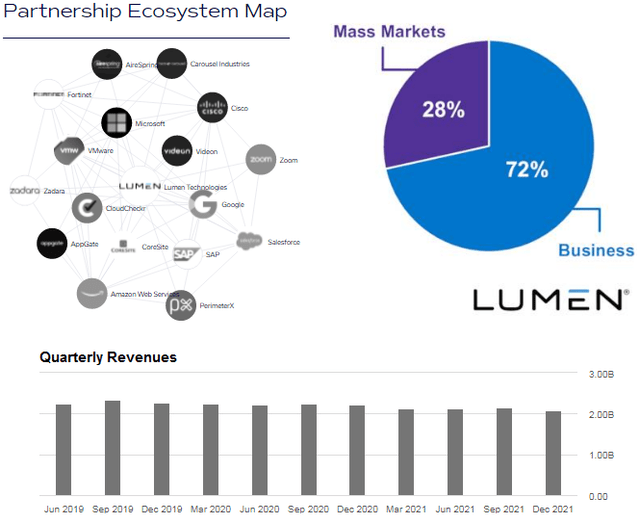 Furthermore, Lumen's edge emphasizes primarily private enterprises and government agencies that fall under the business segment which generated 72% of revenues in the fourth quarter last year. However, as seen in the chart above, the company is seeing a regression in quarterly revenues.
Consequently, for Lumen, its focus on the edge through the Quantum Fiber platform is synonymous with adding value-added services in the form of computing and storage on top of its physical fiber layer. This should result in more profitable growth for its higher revenue-generating segment, and in this respect, its EBIT margins at 20.6% are already higher than competitor Cogent (NASDAQ:CCOI). Opportunities for higher margins are also made possible by the fact that competitors have not yet invested in this area and thus the company should not incur high sales and marketing expenses.
To illustrate what is going on for non-techies, an example scenario is customers wanting to store their video feed data close to, but not within their corporate server rooms, while at the same time benefiting from the cloud to host their data on Lumen's edge instead of having their traffic travel thousands of miles to some distant datacenter. In this respect, Lumen was awarded a $1.2 billion contract by the U.S. Department of Agriculture ("USDA") for managed data and cloud connectivity to 10,000 remote sites, both in the U.S and globally. The company is also providing secure access edge services ("SASE"), to respond to the increasing frequency of cyberattacks.
Valuations and key takeaways
Now, with T-Mobile's 5G ultra band which is available to business users in many locations, Lumen's customers can expand operations to include video broadcasting or gaming to remote places not currently within the reach of fiber.
For T-Mobile, it represents a significant potential to expand its enterprise customer base, where, according to its CEO, its two main competitors held 91% of the wireless market. That was in April 2021 when the company unveiled T-Mobile WFX, consisting of solutions designed for enterprises and the government. Products have also been designed for work-from-homers as the trend is now evolving to a more hybrid workplace.
Thinking aloud, the enterprise wireless segment is synonymous with higher profitability than the consumer one (where T-Mobile excels) and this is evidenced by both AT&T and Verizon's much higher EBIT margins. Hence, partnering with Lumen is an opportunity to grow its enterprise business in a more profitable way than having to invest money to set up an edge computing platform or partnering with different hyperscalers to have one.
That partnership, which was expanded to cover government agencies as part of the $50 billion Enterprise Infrastructure Solutions program, should prove synergistic for the combined T-Mobile/Lumen, for 5G and edge computing platform. They can thus more rapidly deploy FWA (fixed wireless access) services at remote field locations.
The two players with their 5G and edge computing offerings are key to digital transformation, not only in industrial manufacturing but also for analytics-driven transportation and connected healthcare, markets which, according to estimates by KPMG Telecoms & Media are forecasted to scale from $361 billion in 2019 to $500 billion by 2023. This figure dwarfs the connectivity component, signifying that only the 5G and fiber markets together without edge computing would have been worth only $55 billion. This is summarized in the table below as well as Price to Sales multiples.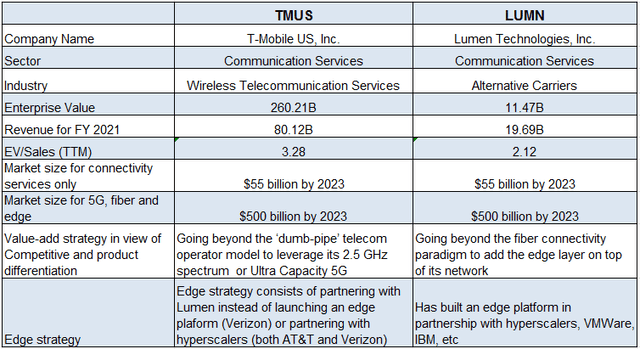 With a market size growing by nine times (550/55), higher sales prospects should spill over to two partners despite competition from AT&T, Verizon as well as other edge providers. As a result of their market itself getting larger, the companies deserve better valuations but bearing in mind economic growth concerns following the inversion of the yield curve, I assume that they grow sales just by half or 50%.
T-Mobile's new sales per share come to about $150 compared to $109 (360.21/3.28) using the EV/Sales ratio of 3.28. Using the same ratio after replacing $109 with $150, I obtain an EV of $492 billion (3.28 x 150). This ultimately translates into a target of $175 (492/360 x 128) based on a share price of $128. Repeating the process for Lumen, I obtain an estimated stock price of $15.6.
These value estimates are based on concrete evidence that revenues were being generated from edge-related services. I already invoked the USDA contract for Lumen earlier and for T-Mobile, its executives invoked the fact that they were ahead of competitors which were "still in proof-of-concept for advanced 5G network solutions like mobile edge compute and private networks". In contrast, T-Mobile is already in the commercialization phase with several large corporations, including the government and a very large logistics company.
Finally, both stocks are buys with potential upsides of 50%, which does not take into account potential margins gains as both companies expand vertically and take control of the cloud edge aspect of their businesses, thereby enabling them to go beyond the "dumb-pipe" telco paradigm (see table above). This said, this is a long-term target, more specifically for the end of 2023, and in the meanwhile, the market will continue to be volatile.
This UrIoTNews article is syndicated fromGoogle News
About Post Author