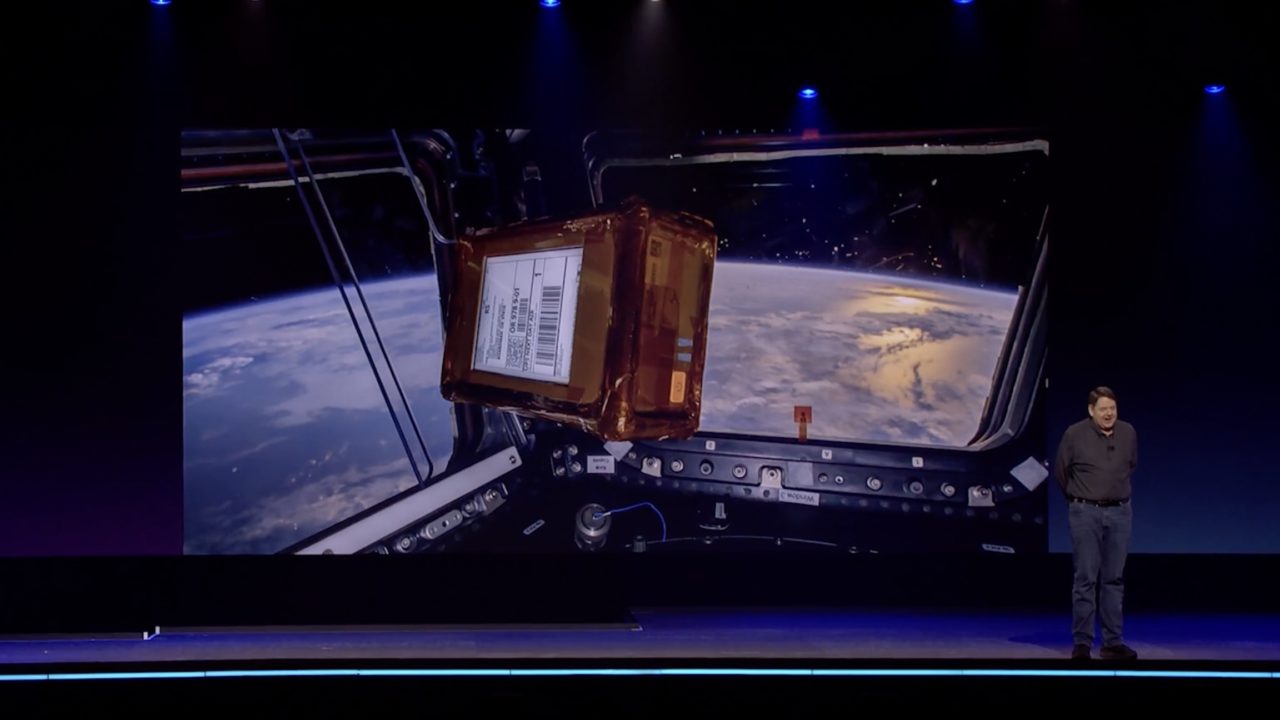 Amazon Web Services (AWS) is claiming primacy in the edge computing space race — at least if there is an edge computing space race. The company recently noted a partnership with private space infrastructure developer Axiom Space to put an AWS Snowcone on board the International Space Station (ISS). More than just a stunt, AWS says it validates the company's existing product portfolio for low earth orbit (LEO) use, as a way to more efficiently analyze data gathered in orbit. The ISS has extremely limited downlink bandwidth that's already needed for existing operations telemetry and scientific tasks, said AWS, which makes a case for offline edge computing, which is the speciality of AWS's Snow products.
"This means astronauts have to send the data and imagery they gather back to facilities on Earth for processing. While only a minor issue when orbiting just above the Earth, future exploration missions to Mars will encounter significantly longer delays because of the enormous volumes of information that will need to travel to Earth and back to a spacecraft," said the company.
Axiom's testing occurred during the company's April Ax-1 mission to the ISS. The privately funded trip to the ISS put a crew in space for two weeks. They conducted more than two dozen scientific experiments, including the work on the AWS Snowcone device.
AWS's Snow products are ruggedized devices designed for edge computing and data migration. The Snowcone is AWS's physically smallest device, weighing about 4.5 pounds (2.04 kg) and measuring 9 inches (22.86 cm), AWS compares it to the dimensions of a tissue box. Inside, is either a spinning hard disk drive (HDD) with 8 terabytes (TB) of storage or a 14 TB SSD. The SSD version is the one that Axiom Space took to the ISS.
Handling work at the extreme edge
AWS designed the Snowcone to provide offline edge workload capability using specialized Amazon EC2 computing instances. While this makes Snowcone suitable for a variety of applications in vertical markets like manufacturing and healthcare, it also makes Snowcone suitable for extreme work environments, like oil rigs, rescue vehicles and now, outer space.
The announcement took place against the backdrop of AWS's latest Re:MARS event in Las Vegas, Nevada. Re:MARS is AWS' regular event to explore machine learning, automation, robotics and space technology.
AWS Vice President of Engineering Bill Vass revealed the results of AWS' partnership with Axiom Space during his time on the Re:MARS 2022 keynote stage. Vass beat the digital twin drum, underscoring the importance of training and simulation as an accelerator of efficient and safe industrial automation at scale. He pitched AWS Snowcone and Snowball products to the audience as well-suited for the extreme operating conditions many industrial robots are exposed to, explaining that Snow's offline storage provides AWS customers with centralized control of data, while still maintaining the flexibility of decentralized execution.
"We took the Snow products to a brand new rugged mobile edge location: space," he said. "Axiom Space and AWS worked together to fully integrate, certify and operate AWS Snowcone on the International Space Station as part of the AX-1 mission."
"We were able to communicate to the Snowcone, make changes to the code if needed, run Machine Learning (ML) apps right on there on the edge in space, automatically generate tags for imaging, and analyze on-board photos," he said.
A lot of companies have their eye on the sky when it comes to non-terrestrial networks (NTNs). 5G NTN research is happening with everything from stratospheric high altitude platform stations to satellites. The sector is predicted to grow as more companies enter the space. Regardless, Vass said the Ax-1 mission has validated AWS Snowcone as a viable edge solution for low earth orbit today. Vass predicts new emerging use cases to come. "Watch this space carefully," he mused.
AWS's commitment to bringing the edge to space, notwithstanding, Axiom Space has much broader ambitions than simply to certify AWS gear for extraterrestrial use. Axiom Space's plans include putting the first commercial space station into orbit, and this isn't a pie in the sky fantasy. It's already being built — here on Earth, anyway.
Axiom Space is already building its first station module, which it hopes to put into space in late 2024. The first module is broadly a proof of concept, a test bed that will be connected to the ISS at first. But eventually Axiom Space plans to deploy it independently, using it as the hub of its own platform from which it hopes to grow an industry of space-based research and manufacturing.
Axiom Space was one of two companies to secure a contract earlier this year with the U.S. National Aeronautics & Space Administration (NASA) to build next-generation spacesuits used for LEO missions and the planned Artemis missions to the moon.
This UrIoTNews article is syndicated fromGoogle News
About Post Author