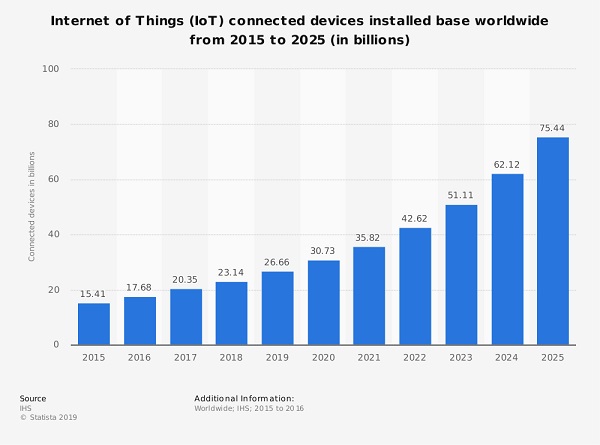 Follow the money. It is true in politics, business and investing.
Right now, there is no question that the money is headed into artificial intelligence.
Gartner, a global IT research and advisory company, surveyed 3,000 CIOs operating in 89 countries in January. The Stamford, Conn., firm found that AI implementations grew 37% during 2018, and 270% over the last four years.
This is a trend investors should embrace. That's because it is going to last for a while. And it's going to make a lot of people very rich.
Investors have soured on AI recently. Self-driving cars, smart cities and robotics keep getting smacked down as idealistic hype. That's mostly because their implementations are decades away … or that these ideas are expensive solutions looking for problems.
So say the critics, anyway.
They point to once-high-flying stocks like Nvidia, which just saw its share price get cut in half because of slowing demand for cutting-edge gear and software.
However, that assessment is lazy. It also misses the point.
AI is a digital transformation story. Corporate managers realize AI software can help automate large parts of the enterprise, increasing productivity and saving a boatload of money.
It is true that machines will not be able to wholly replace complex human decision-making anytime soon. But the software is more than sufficient to processes mundane, repetitive tasks. And machine learning, a type of data science, can help humans see important patterns they might otherwise miss.
So companies are going all-in.
They are deploying software bots online, along with customer-relationship software to help service reps assist customers.
Executives are using integrated suites and data analytics to manage projects, workflows, payrolls and human resources.
For chief information officers, it's a no-brainer. In a brave new world informed by data, using AI to provide insights and streamline operations is becoming almost mandatory.
In other words, not using AI puts companies at a competitive disadvantage.
Gartner surveyed CIOs whose combined companies had $15 trillion in revenue with $284 billion allocated for information technology spending.
The findings are startling: Fiscal 2019 will see a 3X upgrade in AI deployment.
The data jibes with research from IDC Corp., an international investment service. Analysts forecast spending for cognitive and AI systems will reach $77.6 billion by 2022. That's a five-year compound growth rate of 37.3%.
In a related IDC report, the company notes that 60% of global GDP should be digitized by 2022, driving almost $7 trillion in IT spending.
And by 2024, AI-enabled user interfaces and process automation will replace a third of the screen-based applications on smartphones.
The key for CIOs and investors alike will be finding trusted helpers.
That's the story of Globant S.A. …
From its home base tucked away in La Plata, Argentina, the software and IT developer works directly with large companies to implement digital-transformation strategies.
Disney, Cisco Systems, Coca-Cola, Electronic Arts, Alphabet and other large international companies have been drawn to Globant's unique corporate culture and skill sets.
From Brazil to Belarus, via outposts in 10 other countries, Globant's regional managers have their finger on the pulse of emerging social trends.
The company has the AI engineering talent to push the envelope with contextually aware, personalized customer experiences.
Read the source article in Forbes.
This article was originally published here