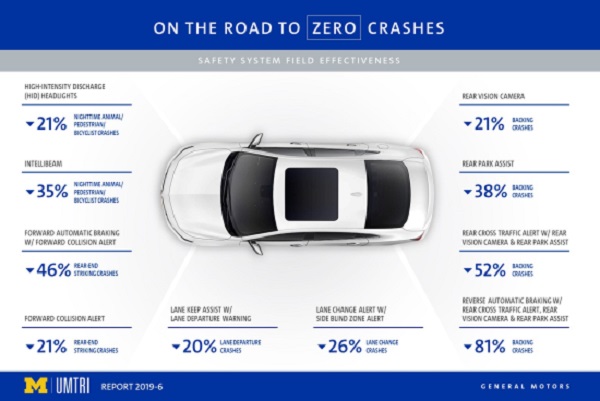 By AI Trends Staff
Advanced safety systems using AI are being delivered in cars today, whether the customer asks for them or not. This is big business, with the value of AI in automotive manufacturing and cloud services projected to exceed $10.7 billion by 2024.
Reaction to the new systems from the auto consumer public is mostly positive based on reactions seen so far.
When a deer jumped in front of a 2017 Subaru Outback being driven in Skokie, Ill, recently, the vehicle came to a complete stop on its own, before the driver could react, according to an account in Consumer Reports, based on a survey of Advanced Driver Assistance Systems (ADAS). "Without the car's automatic emergency braking system, I'd have hit the deer, no question about it," the driver said.
Consumer Reports readers were asked about their experiences with ADAS in their vehicles, including forward collision warning (FCW), automatic emergency braking (AEB) and blind spot warning (BSW). Some 57% of respondents reported at least one ADAS feature had prevented them from getting into a crash. The respondents provided data on some 72,000 vehicles.
ADAS systems have increased substantially in the last 10 years in cars sold in the US, starting with FCW and AEB, then extending to BSW, lane departure warning (LDW), lane keeping assist (LKA) and more recently, pedestrian detection systems (PDS).
Jake Fisher, senior director of auto testing for Consumer Reports, was quoted as saying, "Our survey results show that in the real world, these systems are creating positive outcomes in situations that only a few short years ago would have ended in costly and tragic results."
Manufacturers vary on the ADAS features included in new cars, whether they charge extra for them or supply them as standard equipment.
Survey respondents had the highest satisfaction with AEB, adaptive cruise control (ACC), and BSW. Respondents were least satisfied with lane-keeping features, owing to "annoying" alert chimes, vibrations, or aggressive steering corrections. The dissatisfaction led owners to disable those features more frequently than others.
BSW was the feature that drivers credited with most often keeping them out of a crash; 60% said BSW had prevented a collision.
General Motors Research with U of Michigan
General Motors conducted research on ADAS features with the University of Michigan Transportation Research Institute, that showed several of the features are helping to reduce car crashes in a statistically significant way, according to an account in Green Car Congress.
The study included 3.7 million GM vehicles across 20 different models from 2013 to 2017. Some 15 different ADAS systems were evaluated using police report crash databases from 10 states.
Among the findings:
Automatic Emergency Braking (or Forward Automatic Braking) with Forward Collision Alert reduced rear-end striking crashes by 46%.
Lane Keep Assist with Lane Departure Warning reduced lane departure-related crashes by 20%.
Lane Change Alert with Side Blind Zone Alert reduced lane change crashes by 26%.
Rear Vision Camera alone, Rear Park Assist functionality, Rear Cross Traffic Alert (which nearly always includes the two previous backing features) and Reverse Automatic Braking (which includes all the previous backing features) produced, respectively, an estimated 21%, 38%, 52%, and an 81% reduction in backing crashes.
IntelliBeam and High-Intensity Discharge headlight features provided 35% and 21% reductions, respectively, in nighttime pedestrian/bicyclist/animal crashes, with a 49% reduction when offered together.
"The results show that the GM active safety systems evaluated are addressing a wide range of common crashes that cause a staggering amount of injuries, property damage and cost to our customers and society, putting GM well on its way toward a vision of zero crashes," said Raymond Kiefer, GM Safety Technical Fellow.
Predictive Maintenance, Driver Recognition Coming
Related benefits to drivers from AI plugging into the auto world include better ability to do predictive maintenance. Volkswagen and Microsoft announced in October 2018 a partnership to tap the power of Azure IoT, PowerBI and Skype to gather data that could indicate a pending component failure, long before the failure actually happens, according to an account on a blog from Ignite, an automotive and AI service provider. Plans are for all vehicles to receive Over the Air (OTA) software updates as well.
Driver recognition systems are also making headway. An Israeli automotive computer vision startup, eyeSight, uses AI and deep learning in cameras and sensors that monitor driver behavior. This includes observations of eye gaze, eye openness, and head position. The system can alert the driver to keep eyes on the road, and attempt to wake up the driver if necessary. Contextual controls allow eyeSight to tailor the content of a Heads-Up-Display according to where the driver's eyes are focused. Upper body detection reflects the driver's posture.
Read the source accounts in Consumer Reports, Green Car Congress and at Ignite.