By AI Trends Staff
With 250 speakers in over 100 sessions and 17 tracks, the AI World 2019 Conference and Expo from Oct. 23-25 in Boston, now in its fourth year, has become a premiere business event focused on the practice of AI in the enterprise.
This year's program features a significant expansion of coverage, including the AI World Executive Summit, and a series of half-day pre-conference seminars on AI in Customer Analytics, AI and Cybersecurity, Personalized Medicine, AI for Business Professionals and Making AI Trustworthy.
The main conference program has been expanded to include 17 tracks covering key industries and technology topics such as AI in Financial Services, AI in Healthcare, AI in Pharma, AI in Retail, AI in Energy, AI in Manufacturing, Emerging AI Research, AI in Mobile and Telecom, AI in Robotics, and more. For those unable to attend the full conference, AI World has created a keynote and special expo package program enabling access to some of the keynotes and dozens of special sessions and workshops. Check them out at https://aiworld.com/pass.
All attendees will gain access to a state-of-the-art networking app to enable scheduling of meetings with industry leaders and colleagues. The event includes over 15 hours of networking opportunities.
AI World will host its first hackathon at the October event; participation is free; space is limited; apply early. The AI Data Science Hackathon will bring together innovative data scientists and developers to apply AI and machine learning to solve real world data challenges. In teams, participants will work with datasets and tools on projects from fintech, insurance, health, pharma and more. Interested individuals or groups can briefly outline their project or area of interest via the online form and explain why it's important to the community.
Plenary Program
The plenary program kicks off Wednesday morning with Sam Ransbotham, Professor of Information Systems at Boston College, and a contributing editor to MIT Sloan Management Review, talking about how businesses are using AI to advance their business strategy. Research is beginning to show that businesses generate value with AI, as they try to balance opportunity and risk.
On Thursday morning, Charles Elkan, managing director with Goldman Sachs, will discuss the present and future, hype and reality of AI in Finance. Machine learning and natural language processing have great potential, however the technologies are not magical. Mr. Elkan will address what AI is and is not capable of today, and he will present a framework for success with potential applications of AI.
Khalid Al-Kofahi, Head of AI at Thomson Reuters, will reviews opportunities for AI and machine learning in the legal, news, and tax and accounting industries. He will include example case studies and end with best practices and lessons learned from building AI applications to scale. (See Executive Interview with Khalid Al-Kofahi in AI Trends.)
And Alex Sandy Pentland, a professor at MIT for over 30 years, and recently voted one of the top data scientists in the world by Forbes, will present a keynote on Human Strategy, and how to make sure AI serves everyone and provides transparency in government and private domains.
Other plenary session keynote speakers include Anju Gupta, Vice President and Chief Data and Analytics Officer with Enterprise Holdings; and Franziska Bell, Senior Data Science Manager on the Platform Team at Uber. (See Executive Interview with Franziska Bell in AI Trends.)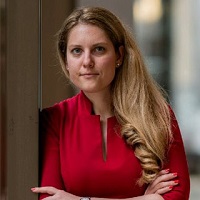 Executive roundtables on Wednesday will include a focus on how AI is driving innovation in enterprise applications, with panelists including David Castillo, managing VP of Machine Learning with Capital One; and Mukesh Dalai, chief analytics officer and chief data scientist with Bose Corp. Another will address how conversational assistants have evolved, with panelists including William Mark, President, SRI International; Karen Myers, Lab Director for SRI's AI Center; and Sasha Caskey, CTO and co-founder of Kasisto, a conversational AI platform provider.
Robust Seminar Program on Wednesday
On Wednesday afternoon, a host of seminars will explore applied AI.
The AI in Customer Analytics session features Pawel Osterreicher, Director of Strategy & Business Development, deepsense.ai, speaking on how small pieces of data can be assembled to give you a big picture of the customer; and Piotr Tarasiewicz, Data Scientist at deepsense.ai, speaking on AI techniques that work in customer analytics. A panel on using data efficiently features Yu-Feng Wei, PhD, CEO, Vizuro LLC and Anusha Sekhar, Program Manager – Product Planning, Global Community Operations, Uber.
A panel of speakers will explore AI and Cybersecurity and dig into ethics requirements. Bob Gourley, Co-Founder and CTO, OODA LLC, will give opening remarks and chair a panel covering scenarios to avoid in AI deployments. Panelists include Bobbie Stempfley, Director Cyber Strategy Implementation, MITRE and Managing Director, CERT Division at the Software Engineering Institute, and Matt Devost, CEO & Co-Founder, OODA LLC. A later panel focused on cybersecurity and ethics requirements features Lewis Shepherd, Senior Director, National Technology Strategy, R&D, VMware Research.
Jonathan Dry, PhD, Director, Bioinformatics and Data Science, Research and Early Development, Oncology R&D, AstraZeneca, will kick off the AI in Personalized Medicine and Digital Health seminar, speaking on Graphical Models for Precision Therapeutics. Ana Maiques, CEO, Neuroelectrics, a company focused on producing devices that stimulate and treat the brain, speaking on an AI-Guided Read & Write Brain Technology Platform to Revolutionize Brain Therapy. A later panel on Making Artificial Intelligence Actionable for Patients with Chronic Diseases features Len Usvyat, PhD, Vice President, Applied Advanced Analytics, Fresenius Medical Care North America, and Caitlin Monaghan, PhD, Data Scientist II, Applied Advanced Analytics, Fresenius Medical Care North America.
Finally, speakers from Pfizer and CVS Health will explore AI in clinical trials and healthcare. Shanrong Zhao, PhD, Director of Computational Biology, Pfizer, Inc. will discuss Deep Learning Network to Generate a Synthetic Dataset to Protect Personally Identifiable Information in Clinical Trials. Uzair Rashid, Senior Manager, Healthcare Strategy & Innovation, CVS Health, will discuss Personalized Healthcare: Leveraging IoT & Quantum Computing.
Program Tracks Feature Many Accomplished Speakers
The conference program tracks on Thursday and Friday encompass topics including AI in Financial Services, AI in Healthcare, AI in Pharma, AI in Retail, AI in Energy, AI in Manufacturing, Emerging AI Research, AI in Mobile and Telecom, AI in Robotics and more.
In selected highlights, Sumeet Singh, Vice President of Big Data, AI & Location Platforms, Verizon Media, will speak on Thursday on Using an Intent Graph to Understand Future Customers; Daniel Carvalho Belchior, Senior Tech Lead Big Data, Public Prosecutor's Office, City of Rio de Janeiro, Brazil, will speak on Predicting and Prosecuting Crime in Rio de Janeiro: A Machine Learning Story.
Robert Joseph, Director, Industry Strategy for Industry 4.0, Stanley Black & Decker, will speak on Technical Based Use Cases from a Large Manufacturing Company. A panel discussion on Implementing AI and IoT at the Edge, will include Robert Martin, Senior Principal, MITRE and Steering Committee Member, Industrial Internet Consortium (IIC); and Joseph Etris, Engineering Project Manager, Data Analyst, Continental, the automotive manufacturing company.
John W. Pyhtila, PhD, Chief Data and Analytics Officer, Partners HealthCare System, will speak in a keynote on Creating a Robust Data Ecosystem to Support the Spectrum of Analytics. John Brownstein, PhD, Chief Innovation Officer, Boston Children's Hospital, and Professor, Harvard Medical School, will speak on Voice and the Future of Precision Care.
A panel in the AI in Healthcare track on the Interaction Between Payers, PBMs, VCs and Service Providers, will include John Mattison, CMIO, Kaiser Permanente; and Beth Griffin, Vice President, Healthcare Cyber & Intelligence, Mastercard. The panel will be moderated by Charles Jaffe, CEO, Health Level 7 International.
Sandy Aronson, Executive Director of IT, Partners HealthCare Personalized Medicine, will deliver a keynote Friday on Maximizing the Potential of Algorithmically Directed Care. Mark Michalski, Executive Director, Center for Clinical Data Science, Mass General Hospital and Brigham and Women's Hospital, will speak on AI in the Healthcare Enterprise.
A panel on Data Scientists are from Mars, Clinicians are From Venus: Bridging AI Communication Between the Two Teams, will be moderated by David Ledbetter, Data Scientist, Children's Hospital Los Angeles. The panel will include Anthony Chang, Chief Intelligence and Innovation Officer, Medical Intelligence and Innovation Institute; Daniel Chertok, Senior Data Scientist, Clinical Analytics Team, NorthShore University HealthSystem; and John Miller, Assistant Professor, Ophthalmology, Harvard Medical School; and Director, Retinal Imaging, Massachusetts Eye and Ear Infirmary.
Vishal Gossain, Vice President, AML/ATF Analytics, Global Risk Management, Scotiabank, will speak on the AI in Finance and Banking track on how AI and ML can Prevent Money Laundering (see recent Executive Interview with Vishal Gossain in AI Trends). Jason Wittenbach, Manager, Machine Learning, Lead Researcher in Deep Learning Explainability, Capital One, will speak on Building a Responsible AI/ML Program in Financial Services.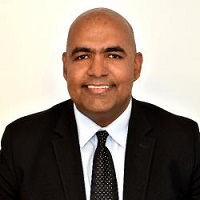 Zsolt Sapi, Senior Vice President, Global Independent Fraud Risk Management, Citibank, will present on Experience in Fraud Management; Wally Lo Faro, Vice President of Data Science, Operations and Technology, Mastercard, will explore Detecting Concept Drift using AI (See, Executive Interview with Wally Lo Faro in AI Trends.)
Srinivaas Krovvidy, Head, Advanced Analytics Enablement, Enterprise Data, Fannie Mae, and Prabhakar Bhogaraju, Vice President, Digital Products, Fannie Mae, will co-present on Friday on Enabling Advanced Analytics Implementations at the Enterprise Level, with Technology and Business Perspectives.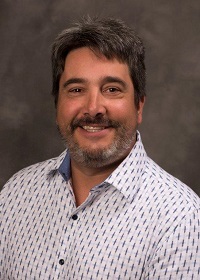 Daiane Piva, Energy Efficiency Improvement Consultant, Tata Steel Europe, will speak in the AI Energy track on Using AI to Improve Industrial Energy Efficiency. Her team used AI to identify the most important parameters that triggered energy use in industrial processes. Based on that, they trained an AI model to optimize consumption and drive costs and CO2 emissions down.
A panel on Venture Investments, Innovation and Start-ups in AIU, 5G and IoT will be moderated by Berge Ayvazian, Senior Analyst and Consultant, Wireless 20/20. The panelists will include: Ali Imran, Co-Founder and Chief Technical Advisor, AISON; Lu Zhang, Founding and Managing Partner, Fusion Fund; and Deepak Verma, Partner, Innospark Ventures.
Learn more and register at 2019 AI World Conference & Expo.
This UrIoTNews article is syndicated fromAITrends
About Post Author